Raleigh Area House Painting Services
For the best residential interior painting services in the Raleigh, NC area, turn to the pros at R&D Painting. You may need new paint inside your home if the once bright paint on your walls is fading. Or, you could just want a new paint color to spice up a bland room of your home. To freshen up the inside of your home with new paint, R&D Painting can help.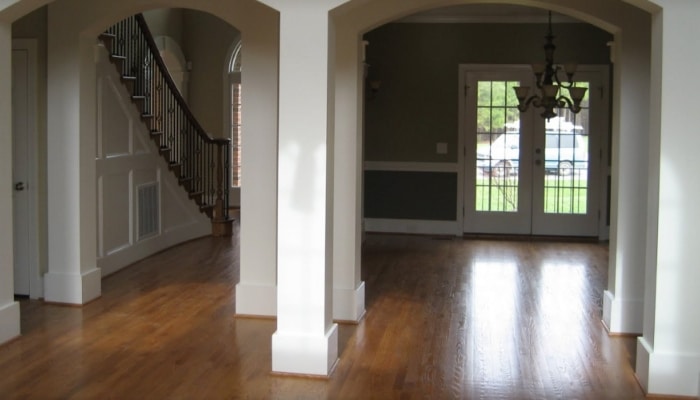 The R&D Painting Process
Initial Consultation and Free Quote:
We come to your home and offer a free color consultation. This is where we'll walk you through every step of the painting process, from picking a color to what to expect while we work.
We fully measure the area we'll be painting so we know how to properly estimate your job.
Surface Preparation and Repair:
Before we paint, we'll assess any other issues, including sheetrock blemishes, stress cracks, nail pops, holes, and scuffs.
We ask that you move any small items and breakables so they don't get damaged during your paint job.
We will either move your furniture with sliders or completely cover your furniture. You'll never have to worry about us scratching your floors.
Premium Quality Paints and Materials:
We use top-of-the-line Sherwin-Williams paint. Green products are also available.
Clean and Efficient Painting Techniques:
We will leave your furniture and home exactly as we found it—with no mess, except you will have freshly painted walls.
Warranty Details:
We provide a full 3-year warranty with all paint jobs.
Our Interior Painting Services
Bathroom Painting
Transform your bathroom into a serene oasis with our expert painting services that add a touch of freshness and a cleaner feel.
Bedroom Painting
Create a personalized haven with our bedroom painting solutions, combining soothing colors and meticulous craftsmanship for a restful retreat.
Kitchen Painting
Revitalize your kitchen space with our professional painting, infusing it with style and energy to enhance your culinary endeavors.
Kitchen Cabinet Painting
Elevate your kitchen's aesthetic and functionality by entrusting us to breathe new life into your cabinets through skillful painting techniques.
Living Room Painting
Capture the essence of comfort and sociability in your living room with our painting expertise, tailored to reflect your preferences and unique personality.
Sheetrock Repair
From minor imperfections to major damages, our sheetrock repair specialists skillfully restore your walls to their original condition, preparing them perfectly for a seamless and stunning paint finish.
Sheetrock Installation
Trust our expert team to create a solid foundation for your interior design dreams with precise and professional sheetrock installation services, ensuring a flawless canvas for your paint.
Trim & Ceiling Painting
Pay attention to the finer details with our trim and ceiling painting services, adding a polished and cohesive finish to your space.
Wallpaper Removal
Bid farewell to outdated wallpaper as we skillfully remove it, preparing your walls for a modern and refreshed look through our professional painting solutions.
Why Hiring Professionals Matters
Opting to enlist the services of our professional painters for your project can truly make a significant difference, and here's why. With years of experience and a wealth of expertise, our team brings an unmatched level of skill to the table, ensuring that every brushstroke contributes to a flawless finish.
Not only do we save you time, but we also optimize costs by efficiently managing resources and minimizing wastage. Our meticulous attention to detail ensures that no imperfection goes unnoticed, resulting in a result that's nothing short of perfect.
Moreover, our commitment to safety and proper insurance coverage provides peace of mind, knowing that your property is in capable hands.
Most importantly, we stand by our work, guaranteeing your satisfaction and making sure that your vision comes to life with precision and finesse.
Why Choose R&D Painting
Since 2005, R&D Painting has provided the best in painting solutions throughout the entire Triangle area. Our professional painters want your home to look its best and we want to provide you with the best value for your investment. Here's just a little of what we bring to the table:
Expertise in Interior Painting
Specializing in Residential Painting Services
Local Painters You Can Trust
Paint Color Trends for Interior Walls in Raleigh
Reputable House Painting Company
We know just how important your home is and will treat it like it was our own. Call us at (919) 669-6459 to get a free estimate for your home's painting project for exterior house painting solutions as well as interior.
Why Choose R&D Painting
FAQS
How do I choose an interior painter?
First and foremost, conduct research. Know what to expect and what to look for in a professional. Examine the various types of paint, as well as their prices and costs.
Next, schedule location inspections and cost projections with professionals. Obtain three to five estimates.
Then, verify references, compare quotes, and review previous work. Once you have the estimates in hand, compare the contractors one last time.
Finally, make a contract with the professional of your choice. A down payment, usually 25% to 50% of the project cost, may be required to cover material costs, but not all professionals require this. Don't pay for the entire project in advance.
How long does it take to complete an interior painting project in Raleigh?
The time required to complete an interior painting project is influenced by factors such as the area's size, the number of rooms, painting intricacy, and the size of the painting team. Typically, painting a single room may span several hours to a day, whereas painting an entire house could extend several days to a week or beyond. Factors such as surface preparation, drying intervals between coats, and any essential repairs also contribute to the timeline. Engaging with experienced painters and reviewing project details can yield a more precise estimate of the project's completion timeframe.
Do I need to hire a professional interior painter in Raleigh?
Hiring a professional interior painter can be beneficial for various reasons. Professionals have the expertise to ensure high-quality work, proper surface preparation, and precise application. While DIY painting is an option, professionals can save you time and potential frustration. They can also provide color recommendations, offer guidance on paint types, and handle any unexpected challenges. If your project involves complex surfaces or requires a flawless finish, investing in a professional painter can produce a more polished and long-lasting outcome.