Rotten Wood Solutions for Triangle Area Homes
Does the wood or trim on the outside of your home look like it's darkening or crumbling? It may be dry rot—or wood rot as it's commonly called. It's caused by a certain fungus that deteriorates timber in buildings and other wooden construction. R&D painting can fix the issue and get the affected area painted in just two days.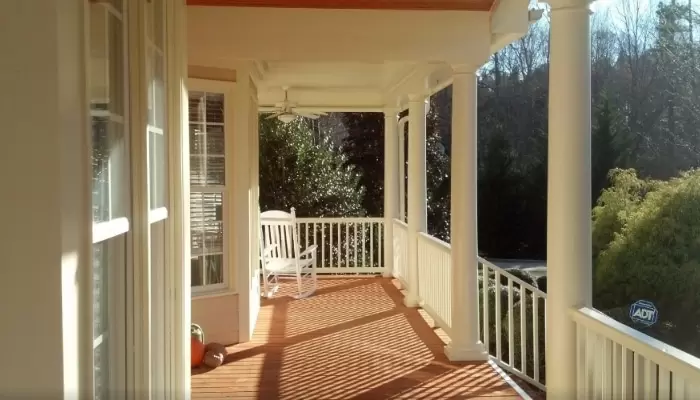 How do I know if my wood siding has dry rot?
There are a few telltale signs that your siding may have dry rot, which include: 
-Buckling, cracking or peeling of the paint or finish. 
-Visible cracks, holes or splits in the wood. 
-Sawdust or wood fragments around the base of your home. 
-Mushy or spongy feeling wood. 
-Fungus or mold growing on or near the siding. 
If you suspect that your siding has dry rot, it's important to have it inspected by a professional as soon as possible. Left unchecked, dry rot can cause significant damage to your home's structure and ultimately lead to expensive repairs.
Signs Of Dry Rot Or Decaying Wood
It takes on a dark, brown or crumbly appearance.
It is brittle and can be crushed into powder.
You are able to stick your finger through the wood.
Your outside walls have an unappealing, flakey look.
Simply painting over the issue isn't solving your problem. R&D Painting eliminates the fungus that causes dry rot by replacing the wood with PVC or planks and then caulking and painting it to match your initial color. You will never experience dry rot in the affected area again.
Why Call R&D Painting for Help with Dry Rot?
Not all painting companies can address dry rot issues.
R&D offers free initial estimates, which include materials, labor, paint matching and a three-year warranty.
We are fully insured and have references available.
All jobs start with a free in-home consultation to choose paint colors.
We have been painting homes in the Triangle since 2005.
Green products are available.
R&D Painting believes in doing the job right the first time around! Call us at (919) 669-6459  to get a free estimate for your dry rot repair or other painting services you may need.