Triangle Area Residential Painting Services
Looking for a reliable house painter in the Garner and Raleigh areas? If you are beginning to notice that your exterior painting is peeling, fading or blistering, it might be time to think about a fresh coat. Let R&D Painting make your home look fresh and new this year!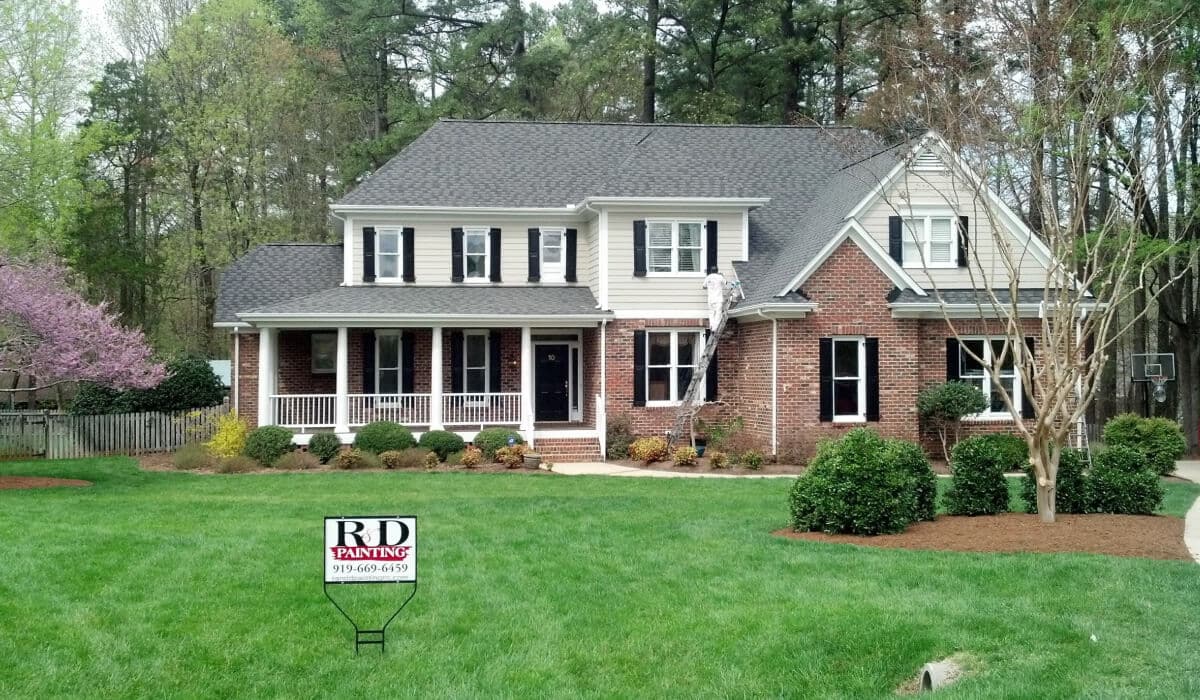 Start To Finish
A free initial estimate that includes materials, labor and paint matching.
An in-home color consultation before each job.
We always pressure wash before we paint, then scrape or prime so that we are working with bare wood.
We only use top-of-the-line products.
We apply two coats of paint on major color changes.
After we finish painting, we have professional window washers come back to clean your windows at no extra cost.
Our work comes with a three-year warranty with an option to upgrade to a five-year warranty.
Our Exterior Painting Services
Aluminum Siding Painting
Vinyl Siding Painting
Brick Painting
Concrete Patio Coatings
Deck Staining & Preservation
Dry Rot & Wood Rot Repair
Garage Floor Painting
Garage Painting
House Painting
Power Washing
Siding Painting
Siding Repair & Replacement
Specialty Painting Services
Trim Repair & Replacement
Professional Painters For Your Home
We offer a top-quality paint job at a fair price. We'll treat your home as if it were our own. With professional painting experience since 2005, R&D Painting believes in doing the job right the first time!
Call us at (919) 669-6459  to set up a free estimate for your exterior painting project. We also offer interior painting services, garage floor painting and wood rot repair.
FAQs
When is the best time to paint a house exterior near Raleigh, NC?
The best time to paint a house exterior near Raleigh, NC is during the dry and mild months of the year, typically between late spring and early fall. This allows the paint to dry and cure properly without being affected by extreme temperatures or humidity. In the Raleigh area, the ideal time for exterior painting is usually from mid-March to mid-November, with the best months being April, May, September, and October. It's important to avoid painting during rainy or extremely hot and humid conditions, as this can cause the paint to bubble or peel. It's also best to consult with a professional painter for specific recommendations based on your home's location and condition.
How much does house painting cost in Garner, NC?
The cost of home painting varies depending on several aspects, including the size of the house, the state of the surfaces, and the type of paint used. Professional house painting might cost anywhere from $1,500 to $4,000 or more for a standard-sized home. Costs may be greater for larger homes or those with numerous stories. Furthermore, issues such as the necessity for substantial surface preparation, repairs, or additional paint coats can all have an impact on the overall cost. To get an accurate estimate, get estimates from reliable painting contractors.